Watercolor Spring Tulips with Deb & Vicki
Watercolor Spring Tulips with Deb & Vicki
Hidy Ho Teaspoon Fans,
Today's card is a watercolored tulip!  So simple but so striking.    We did this one in violets but can be created with any color!  
We used our Florals Tulips Combo 
You can also get it as a single stamp set without the die
We colored this card with our Nuvo Watercolour Pencils.  They are highly pigmented watercolors – AAAAAAAAAMAZING.  You can pick from 5 different pans (or just get all of them because as crafters, we always need it all :0) – 
Dark Shadows Watercolour Pencils
Brilliantly Vibrant Watercolour Pencils
Elementary Midtones Watercolour Pencils
Pastel Highlights Watercolour Pencils
Hair and Skin Tones Watercolour Pencils
These pencils are so colorful.  Remember, you can purchase just one set or get the entire collection.  Each one is very specific.  I love all of them.  Did you know that you can get even MORE vibrant color by taking the color directly from the pencil to your brush.  You are picking up STRONG DIRECT color!  I'll do a video on it!  :0)
and to make this stand out, we've used our Stitches of Love Die set
(one of my FAVORITES) it's a set of 5 dies
and each die has a different design.
So what did you think?  Isn't this card sweet?!  It includes two tulips, a single leaf, 4 sentiments and a butterfly.  OMG!!!!  We've got them back in stock.  They are one of our biggest sellers!  Watercolor Spring tulips is what we're hoping for here in the northeast as we look out at all the snow!
Thank you for stopping by today and spending a little of it with us! Hope you were sipping on your hot beverage and just enjoying the day! (((hugs)))
~With a dollop and dash of fun and sass…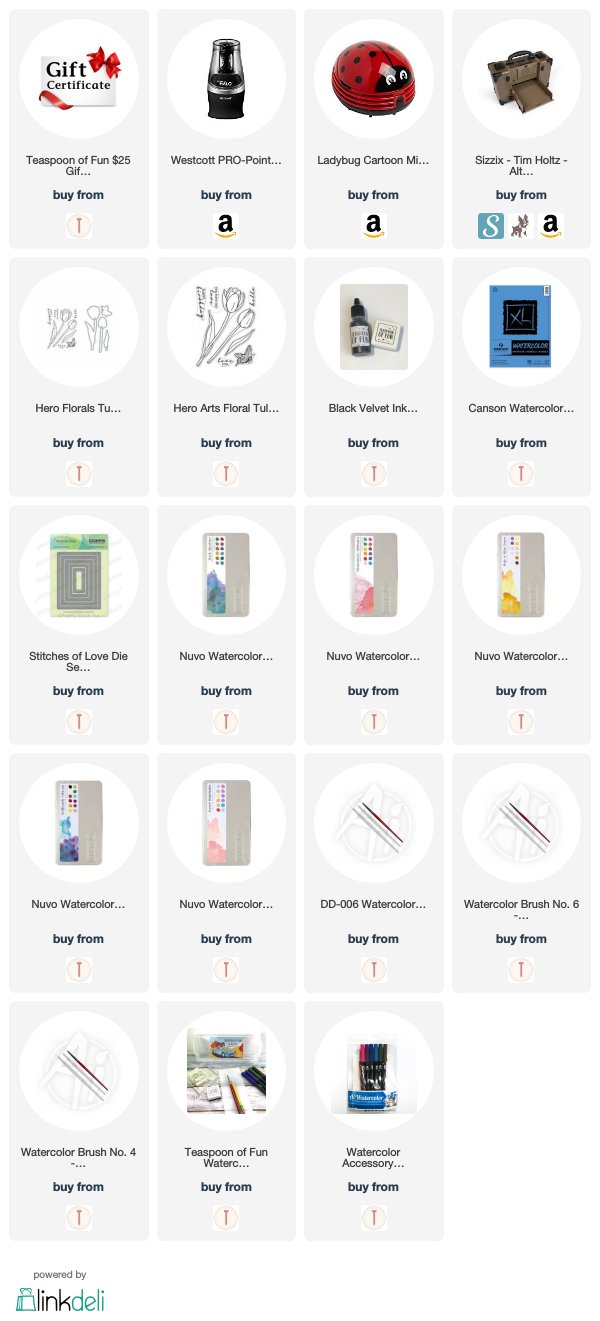 I participate in several affiliate programs. That means that I receive a commission when products are purchased through links here at this blog (at no cost to you). Please know I will never share or even review product that i would not personally recommend or that I do not personally like.