One Sip too Many Gnome with Deb & Vicki
One Sip Too Many Gnome with Deb & Vicki
Hidy Ho Teaspoon Fans,
Before I start, make sure you are following us on Instagram – either at stampladee or teaspoonoffun.  Just head over to Instagram (create an account if you don't have one already) and search stampladee and start to follow or search for teaspoonoffun and start to follow!  You don't want to miss anything that is coming up!!!  Instagram is a great way to follow us!  Then this blog and our YouTube channel is great for tutorials to teach you the "how to's".
Okay, today's card share is so adorable and it's the first in a series we will be doing with our Gnomes.  This Gnome had One Sip Too Many!  ha ha ha….
He's new to our shop.  Check him out here – One Sip Too Many
I paired it with this adorable Saying
Which comes from this ADORABLE set – Festive Gnome Sentiments
How stinken cute is that?!
We also have two other Gnome Sentiments in our SHOP
This particular one is my FAVORITE –  Holiday Fun Sentiments
And how can you not own this one….SO CUTE!!!! Christmas Sentiments
One of the most adorable things on the card besides the Gnome sleeping in the Martini Glass is his Tassel and his Cuff.  Can you see it?  It's got our NEW Fluffy Stuff on him!  SOOOOOOOO adorable!!!
So have you started your cards yet?  Let's get going.  We've got some great new products in the SHOP.  Head on over and check them out or click on the links below.
Thank you for taking time to laugh with me today.  This little guy will make anyone giggle.  And I KNOW you know of someone who would LOVE this card.  Right?!  (((hugs)))
~With a dollop and dash of fun and sass…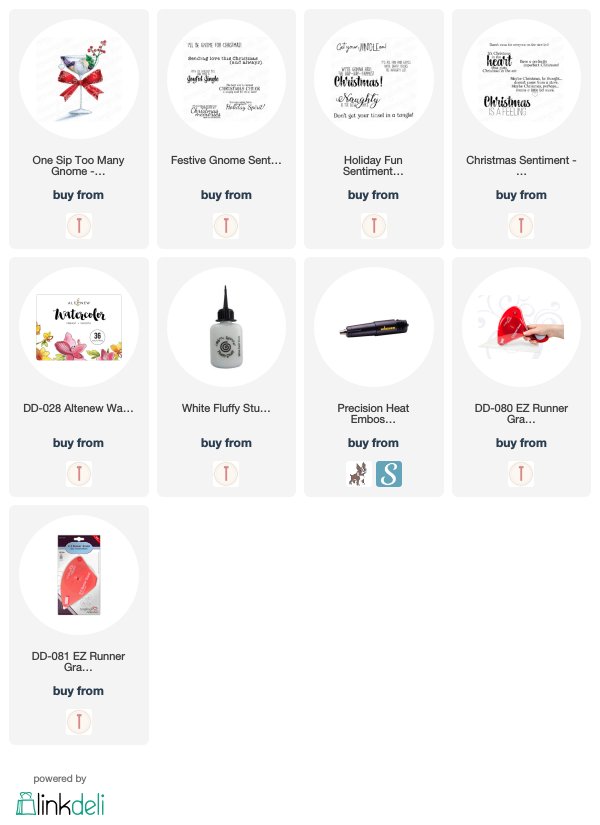 I participate in several affiliate programs.  That means that I receive a commission when products are purchased through links here at this blog (at no cost to you). Please know I will never share or even review product that i would not personally recommend or that I do not personally like.