Blooming Boots with Deb and Vicki
Blooming Boots with Deb and Vicki
Hidy Ho Teaspoon Fans,
Dang they're cute aren't they?!?  Spring is coming so get those rain boots out!  Here's our take on these adorable little essentials.
This combo is new in our shop – DD-016 Blooming Boots
We call it a "combo" because there is a stamp and three dies!
Here is another new item in our shop.  It's the Burlap Edge Die.
How fun is this?!  DD-017 The Burlap Edge Die.
The flowers are colored with our Basic Bugsy Carton of Creativity.
Included in this Combo are the words Spring and Bloom.
Gina K Crystalline Drops was used for the dimension on Spring and Bloom.
Here's another card using the Combo.
These are colored with the New Altenew Watercolor Brush Markers
On this card JUST the flowers from the Blooming Boots Combo were used.
How fun are these!?!  You can color them with just about anything and they all come out super!  Fast coloring is done using watercolor paper!  What's your favorite way to color?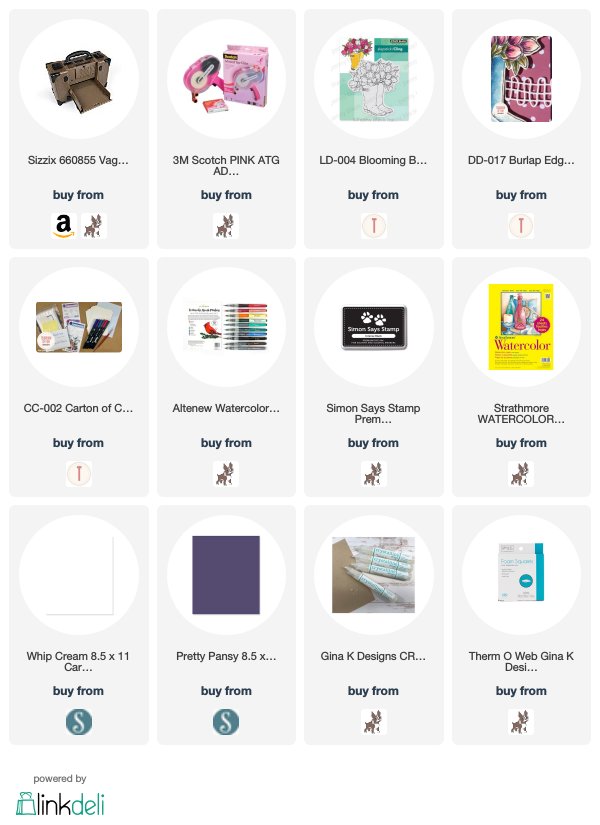 I participate in several affiliate programs.  That means that I receive a commission when products are purchased through links here at this blog (at no cost to you). Please know I will never share or even review product that i would not personally recommend or that I do not personally like. 
~With a dollop and dash of fun and sass…